for patients with
anxiety, insomnia,
depression, or pain
How to Prescribe Alpha-Stim
Alpha-Stim technologies are easy to use with patients. Alpha-Stim can be prescribed both in-person in a qualified healthcare clinic or office setting, as well as via telehealth appointments.
A prescription for Alpha-Stim is only required in the United States and it is available over-the-counter outside of the US.
Hundreds of thousands of people around the world have achieved remarkable results with Alpha-Stim technologies, with many practitioners often using the devices right alongside their patients.
Learn more about working with Alpha-Stim and how to get started below.
Getting Started with Alpha-Stim
We know you want what's best for the people you treat, whether they have anxiety, insomnia, or pain. To help new health practitioners see if Alpha-Stim is a good fit for their patients, connect with us today to talk about trying Alpha-Stim M and Alpha-Stim AID.
Use the form below to get more information.
Discover Alpha-Stim technology today.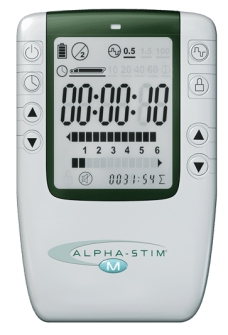 For pain, anxiety, insomnia, and depression.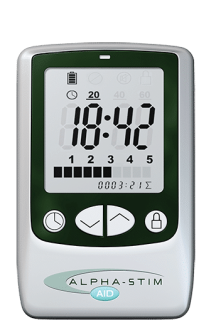 For anxiety, insomnia, and depression.
"The Alpha-Stim has so much good science behind it, with many highly controlled clinical studies—this really proves its unique effectiveness for so many types of patients. And you can't ignore the incredible safety record with no serious side effects. That's why I recommend it to many of my patients."
Anita D. Spitz, MD, Chief Family Medicine Department Parrish Medical Center
Titusville, Florida
"Not only have I experienced relief from anxiety and insomnia; additionally, Alpha-Stim treatments have reduced or eliminated accompanying physical pain."
CH (MAJ) David J. Fair PhD,
President, American Association of Police Officers; President, Homeland Crisis Institute
Texas
"So far, I have overall had good results from the Alpha-Stim AID. In fact, one day while doing household tasks I walked in front of a mirror and noticed that I was smiling! That's new behavior and truly a result of this device. I am also experiencing a feeling of well-being and deep sleep that I haven't experienced since college days."
Alpha-Stim User
"I experienced the worst depression I have ever felt. I never have had depression until now. It's the worst feeling ever. Makes the days go by so much slower. I went to my doctor, hoping for medicine. Instead he let me try Alpha- Stim. This product ended up being a life changer! It is awesome!"
Angie Lamborghini
"After 3 months, I feel like a new person. I would recommend Alpha-Stim to anyone suffering from depression or anxiety."
Laine Downing
How can I get Alpha-Stim M or Alpha-Stim AID for patients?

Typically trying Alpha-Stim in the office can identify those individuals who readily respond to Alpha-Stim treatment. You or your patients can fulfill your order 3 easy ways:
Is there special pricing for practitioners?

Special pricing options for practitioners may be available. For practitioner volume discount pricing, call us at 1-800-367-7246 (in USA), + (940) 328-0788 (outside USA), or email us at info@epii.com.
Will health insurance cover Alpha-Stim for patients?

Insurance coverage varies by policy. Durable medical equipment coverage is often required to obtain some level of reimbursement for Alpha-Stim devices. EPI does not bill private carriers but will assist customers by providing a paid invoice and a sample Statement of Medical Necessity for your practitioner to complete. This statement is typically required by the insurance carrier if the device is covered.

The HCPCS code for the Alpha-Stim AID is K1002 and the Alpha-Stim M is E1399.

Patients can also use a flex spending account (FSA) or health savings account (HSA) and may be able to qualify for financing and flexible payments.