A drug-free approach to managing depression
FDA cleared for anxiety, insomnia and pain only, with approval for depression outside of the United States
FDA cleared for anxiety, insomnia and pain only, with approval for depression outside of the United States
A New Way to Manage Depression
About 280 million people worldwide suffer from depression, the World Health Organization reports. Studies have also found that depression is more common in women than in men, and that older adults are more likely to report depression.
Depression can impact everything from your relationships, your job, your overall health, and how you interact with the world around you. And because depression can appear across a range from mild to severe, how to manage it varies by person. And thankfully, medications and other more aggressive therapies are not the only option anymore.
For those seeking help with their depression, Alpha-Stim® M and Alpha-Stim AID devices offer a safe, effective, and easy option. While Alpha-Stim is only FDA cleared for anxiety, insomnia, and pain, it is approved for depression outside of the United States.
Significant Depression Reduction without Medication
Managing depression without medication is possible. Alpha-Stim is cranial electrotherapy stimulation (CES) device that can be used at home or in clinical settings by licensed health providers to help individuals with depression.
 In clinical trials, Alpha-Stim recipients reported an 82% decrease of ≥ 50% or greater in depression scores after five weeks using the CES therapy.
In a clinical trial of Alpha-Stim patients, After 6 weeks, users experienced 42.8% improvement.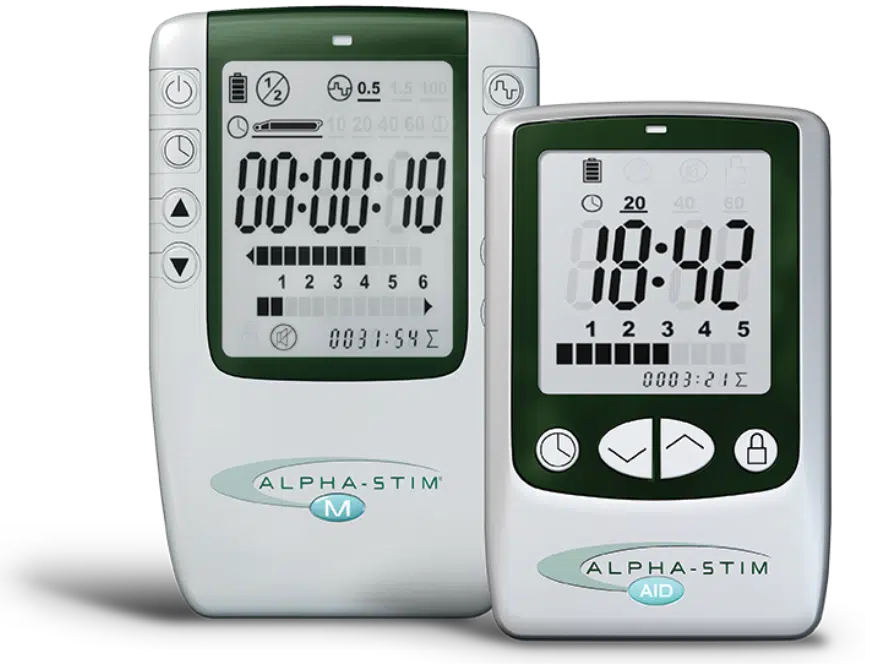 How Does Alpha-Stim Treat Depression?
Alpha-Stim is a non-invasive, non-drug cranial electrotherapy stimulation (CES) device that can be used to help individuals with depression, along with anxiety and insomnia. The device uses a patented microcurrent waveform to balance the electrochemical function of the brain to improve users' emotional and physiological states.
Patients wear earclip electrodes that deliver a small electrical current to the brain to help regulate brain cells' electrochemical signals and return them to a balanced, normal functioning state.
And because the effects of Alpha-Stim build on the progress of the last session, Alpha-Stim users can decrease sessions over time. Moreover,  because CES does not involve any chemicals, Alpha-Stim users are free from the worry of dependence and withdrawal. 
See if Alpha-Stim is Right for You.
Give Alpha-Stim M or Alpha-Stim AID a try for treating and managing your depression. Schedule a telehealth consult today with a licensed health care provider to get started.
What People Say About Alpha-Stim
See what people are saying about using Alpha-Stim for depression, anxiety, and improved mental well-being.
"I experienced the worst depression I have ever felt. I never have had depression until now. It's the worst feeling ever. Makes the days go by so much slower. I went to my doctor, hoping for medicine. Instead he let me try Alpha- Stim. This product ended up being a life changer! It is awesome!"
Angie Lamborghini
"As a mom and having the unstable job of being an actress, who sometimes needs to travel all over the world to work, it can be demanding and at times quite stressful. I never thought of myself as having anxiety the way it was usually described to me but when I think back to a few months ago, and throughout the pandemic (where projects fell through and a lot of uncertainty with my job was a constant for quite some time) I can say now that I have indeed experienced bursts of anxiety."
Ragga Ragnars, Actress, Former Olympic Swimmer
"Words fall short in expressing the depth of gratitude I feel toward such an effective treatment available for people, like me, who have suffered from depression and anxiety."
Lee Jones
"After getting Alpha-Stim and using it for 20 minutes every day (I have had it for over 6 months now) it is safe to say that my stress and anxiety has decreased so much. I am more calm and focused when dealing with the day to day mom life, I am at ease when I travel and need help from my family with my son (my friends and my parents have been amazing at bringing my son to me when I am away working, or taking care of him at home while I am away) and before, that would stress me out a lot. Now, I go through my days with minimum stress and anxiety and absolutely love my Alpha-Stim for it."
Ragga Ragnars, Actress, Former Olympic Swimmer
"After 3 months, I feel like a new person. I would recommend Alpha-Stim to anyone suffering from depression or anxiety."
Laine Downing
"I am a critical care nurse that had Covid twice in 2020 while providing bedside care to inpatient veterans at Salem VAMC. I am now disabled due to long-Covid with physical and mental health issues. I am on 3 medications for anxiety (panic attacks) & depression with limited effect. In my first 20-minute session, the Alpha-Stim device relieved my long-COVID anxiety. As a nurse, I hope for the best and prepare for the worst. Alpha-Stim has me believing in miracles. Thank you! While I still have other long-Covid issues to deal with, my quality of life has been greatly improved due to alpha-stim. All the best and be curious!"
Michael Huemmer, RN
"I am a full time mom to an almost 7-month-old boy. Sleep deprivation worsens my anxiety and usually leads to me being down and depressed. I've had my Alpha-Stim for over a year now but was not religiously using it. But now I really need it for my heightened anxiety. I've been using it for the last 3 days and it's been calming me down. I find that 20 mins while I meditate helps a lot. I am 100% committed to using my Alpha-Stim daily. I'm so happy I found this. Much better than taking medication. Thank you!"
Precilla Morse
Take charge of your life with Alpha-Stim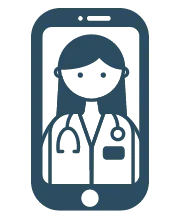 See if Alpha-Stim is right for you via a telehealth visit with a licensed healthcare provider
Purchase Alpha-Stim devices and accessories in our online store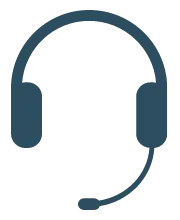 Speak with a
representative on the
phone to learn more
Sources:
Barclay TH, Barclay RD. A clinical Trial of cranial electrotherapy stimulation for anxiety and comorbid depression. Journal of Affective Disorders. 2014; 164:171-177. Presented at the American Psychological Association National Conference, Honolulu, July 2013.

Bystritsky A, Kerwin  L, Feusner J. A pilot study of cranial electrotherapy stimulation for generalized anxiety disorder. Journal of Clinical Psychiatry. 2008; 69:412-417. Presented at the American Psychiatric Association meeting, San Francisco, 2009.