Understanding the mechanism
of action & science
Alpha-Stim® M and Alpha-Stim AID devices utilize cranial electrotherapy stimulation (CES) and microcurrent electrical therapy (MET). Learn more about the mechanism of action and science behind both technologies below.
How Alpha-Stim Works for Anxiety, Insomnia, Depression* & Pain
Cranial Electrotherapy Stimulation (CES) for anxiety, insomnia, and depression, and Microcurrent Electrical Therapy (MET) for pain.
Alpha-Stim CES is a form of non-invasive brain stimulation that applies a patented, low amplitude waveform to the brain via earclip electrodes. Psychiatric disorders, such as anxiety and insomnia, are associated with alterations in electric activity in large-scale brain networks. Research suggests that Alpha-Stim CES modulates large-scale brain network activity patterns in two synergistic ways:

Ultimately, these two ways of stimulating the brain normalize the pathological signaling in the default mode network observed in psychiatric disorders, providing rapid, effective, and lasting symptom relief without the side effects of medication.
MET is the process of directing microcurrent through the body via Smart Probes or self-adhesive AS-Trodes to treat pain. When applied peripherally, the rhythmic, low-amplitude current of Alpha-Stim MET modulates the peripheral signaling in pain circuits that emanate from the spinal cord, providing rapid, effective, and lasting pain relief with no risk of addiction or tolerance.
Alpha-Stim M: Microcurrent is delivered via electrodes placed on the body at the pain site for the treatment of acute, chronic, and post-traumatic pain using MET. Also includes earclip electrodes for CES to treat anxiety, insomnia, and depression.
Alpha-Stim AID: Microcurrent is transmitted to the brain via earclip electrodes using CES to treat anxiety, insomnia, and depression.*
*FDA cleared for anxiety, insomnia and pain only, with approval for depression outside of the United States. 
Discover Alpha-Stim technology today.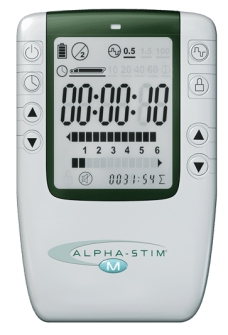 For anxiety, insomnia, depression and pain.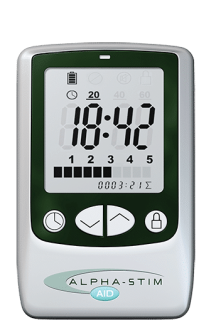 For anxiety, insomnia and depression.
The Alpha-Stim Difference
Alpha-Stim can be safely delivered at home and is better tolerated than more expensive and burdensome alternatives. It also increases treatment motivation and thereby augments treatment response as it offers the patient agency over their recovery process by adjusting stimulation parameters.
Alpha-Stim can be performed at any time during a wide range of daily activities, allowing a patient to live an active and uninterrupted lifestyle.
Getting Started with Alpha-Stim
Want to try Alpha-Stim AID or M devices with your patients? To help new health practitioners see if Alpha-Stim is a good fit for their patients we offer options with both devices for trying them out. Use the form below to get more information about Alpha-Stim. 
Proven Results for Patients Everywhere
"I am a critical care nurse that had Covid twice in 2020 while providing bedside care to inpatient veterans at Salem VAMC. I am now disabled due to long-Covid with physical and mental health issues. I am on 3 medications for anxiety (panic attacks) & depression with limited effect. In my first 20-minute session, the alpha-stim device relieved my long-COVID anxiety. As a nurse, I hope for the best and prepare for the worst. Alpha-stim has me believing in miracles. Thank you! While I still have other long-Covid issues to deal with, my quality of life has been greatly improved due to alpha-stim. All the best and be curious!"
Michael Huemmer, RN
"I haven't slept more than four hours in a night in years. The VA used this on me last week, 30 minutes a day for three days. I slept 6 hours two nights and almost 7 the third night. More sleep, better the mood, much less anxiety."
Paul Reinhardt, US Veteran
"It has become the most used microcurrent device among our hockey players. With traveling on a bus for many hours at a time, the Alpha-Stim's portability makes it possible for treatment at any time and any place. Best results for our players occur with treatment of the back, shoulder and hip flexor regions."
Curt Kamp, former Athletic Trainer, Seattle Thunderbirds
"I experienced the worst depression I have ever felt. I never have had depression until now. It's the worst feeling ever. Makes the days go by so much slower. I went to my doctor, hoping for medicine. Instead he let me try Alpha- Stim. This product ended up being a life changer! It is awesome!"
Angie Lamborghini
"I am a full-time mom to an almost 7-month-old boy. Sleep deprivation worsens my anxiety and usually leads to me being down and depressed. I've had my Alpha-Stim for over a year now but was not religiously using it. But now I really need it for my heightened anxiety. I've been using it for the last 3 days and it's been calming me down. I find that 20 mins while I meditate helps a lot. I am 100% committed to using my Alpha-Stim daily. I'm so happy I found this. Much better than taking medication. Thank you!"
Precilia Morse
How can I get Alpha-Stim for patients?
Alpha-Stim technologies are easy to use with patients. Alpha-Stim can be prescribed both in-person in a qualified healthcare clinic or office setting, as well as via telehealth appointments.
Learn about prescribing Alpha-Stim below.